PRO Tech Solution & Services
6-01, Jalan Kempas Utama 3/1,
Taman Kempas Utama,
81200 Johor Bahru,
Johor, Malaysia.

Sales & Inquiry
+6018-7652520
Technical & Trouble Shooting
+6011-16162046
sales@protechsns.com

Business Hours:
Monday - Friday
9:00AM to 5:00PM
(GMT + 8:00)
Closed on:
Saturday, Sunday & Public Holiday
K32LCD - Paradox 32 Zone LCD Keypad
Paradox Alarm System --- Paradox keypad ---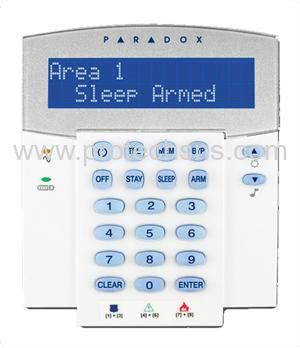 Item details
Weight: 600 grams


Paradox 32 Zone LCD Keypad
32-character blue LCD display with programmable labels
Real-time zone alarm display (until disarmed)
StayD status LED
Menu driven programming for easy system setup
In-field firmware upgrade via 307USB and Winload
Adjustable backlight, contrast and scroll speed
1 keypad zone input
8 one-touch actions buttons
3 keypad-activated panic alarms


Disclaimer: Picture may differ slightly from actual product. Specifications and features subject to change without prior notice.