PRO Tech Solution & Services
6-01, Jalan Kempas Utama 3/1,
Taman Kempas Utama,
81200 Johor Bahru,
Johor, Malaysia.

Sales & Inquiry
+6018-7652520
Technical & Trouble Shooting
+6011-16162046
sales@protechsns.com

Business Hours:
Monday - Friday
9:00AM to 5:00PM
(GMT + 8:00)
Closed on:
Saturday, Sunday & Public Holiday
HFW2220S HD-CVI 2 Megapixel Outdoor Bullet Camera
CCTV --- HD-CVI 2 Megapixel Camera ---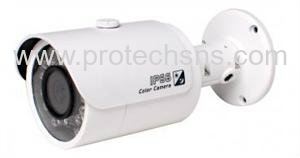 2 Megapixel Infrared Outdoor Bullet HD-CVI Camera
Model : HFW2220S


Unit Price :
RM385.00
HDCVI offers a fast and easy upgrade to high definition under conventional cabling environment. The in-house technology – HDCVI – features over-coaxial-cable analogue HD video transmission, allowing reliable long-distance HD transmission at lower cost.

The highlights of HDCVI are the following:
✔ Easy upgrade to HD
HDCVI technology renders 1080p and 720p HD video format by analogue modulation; which means that the new solution inherits exactly the same installation and deployment as the conventional analogue ones, only offering megapixel high video quality with more details retained.

✔ Long-distant transmission
Due to the fact that it is transmitted over-coax, HDCVI could realize reliable long range and non-latent transmission without further relay devices. For the comparison with HD-SDI at the transmission front, HDCVI shows a distinguished advantage. With general transmission media, HD-SDI reaches 100 meters at most while HDCVI, at least transmits 500 meters by using 75-3 cable and featuring low signal distortion rate.

✔ No latency
HDCVI is more reliable as it adopts P2P transmission. Meanwhile, it features no latency for an outstanding real-time performance and it requires no compression, which successfully maintains the original quality and thus present in vivid images.

✔ Three signals over one cable
In addition, with three signals – video, audio and control – composited in one cable, the solution could further simplify the cabling while ensuring a smooth transmission at the same time.


Specification / Brochure